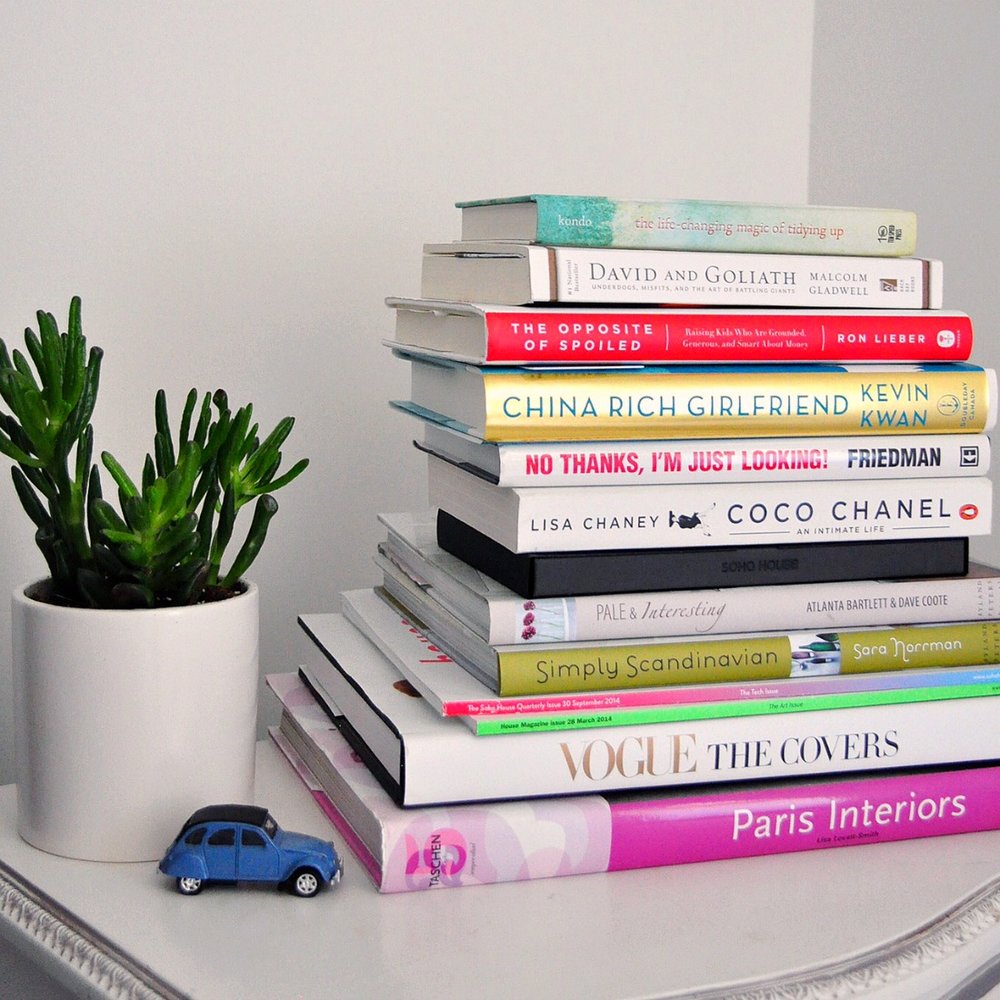 It's the first day of spring and we thought we would rev up your reading list with the books that have inspired some of the moms we have met over the last year (believe it or not, Love, Emoem, is celebrating it's first birthday in just a couple of weeks!). Whether it's on your Kindle or waiting on your bedside table, these are the pages that are moving our real moms—mind, body and soul.
The Book That Will Make You Wanna Hug Your Girl Squad
My Brilliant Friend by Elena Ferrante recommended by The Cashmere Shop owner and single mom to two school-agers, Alison Currie. She stacks her bedside with plenty of visual inspiration and non-fiction, however about this author, she says: "She writes about women, friendship and our inner most emotions in a way that's so hard to put down." Check out this official review in The New Yorker  that echoes Alison's sentiments that it's a masterful and magical study of a lifelong friendship.
The Book That Will Awaken Your Career-Lovin' Mojo
Photography and creative agency owner Kathi Ziolowski has a stack of In the Company of Women: Inspiration and Advice from over 100 Makers, Artists, and Entrepreneurs by Design*Sponge founder Grace Bonney. With daughters who are closing in on their tweens, Kathi has more wiggle room to grow her own business and help others while she's at it. She keeps these handy in her office to give to friends and colleagues who could use a career pick-me-up or just some straight up fuel to keep their entrepreneurial motor running.
The Book That Will Fire Up Your Love of Science and Justice
Love, Mom co-founder Tracey Ho Lung has been talking up The Immortal Life of Henrietta Lacks by Rebecca Skloot for years (and she's not alone in her fascination with this real-life investigation…Oprah is staring in the HBO movie premiering next month). "The book jumps back and forth between the life of Henrietta Lacks, and how a ground-breaking scientific discovery from her cells changed the way we view the ownership of what is in our own bodies…it's an eye-opening book that is rated among my all-time favourites."
The Book That Will Feed Your Relationship
Date Night In: More than 100 Recipes to Nourish your Relationship by food blogger Ashley Rodriguez. PR boss and mom to two toddlers, Delphine Nicholls gifted this to her huzz so they could make more of their nights in. "We try to make a menu at least once a week after the kids have gone to bed because it's so much nicer and easier than going out, especially while we're still waiting to get more sleep when they get older." They're first date night in? Dinner and a Movie on page 238 with a sun-dried tomato Caesar salad and a white pizza with sausage and pickled peppers. Nom nom.
The Book That Will Fine Tune Your Inner Mama Bear
With two littles under five years old, one of the many parenting titles that's stood out for design pro Julia Black is The Opposite of Spoiled: Raising Kids Who Are Grounded, Generous, and Smart About Money by Ron Lieber. She says "it guides you on how to teach your kids to be mindful and empathetic," especially in light of issues concerning consumption. Lieber offers necessary guidance on how to teach the valuable difference between what they need versus what they want.
The Book That Will Make Your Home Even Sweeter
Artist and interior stylist Anna Church doesn't just decorate. She's an interior environmentalist and her home expresses her ethos and commitment to up-cycling, vintage finds and all-natural touches. "I love that a home can be a creative canvas too. It's an extension of your personality and your family. The Inspired Home: Nests of Creatives resonates with me because I see this signified in the homes and people featured," she says. You'll be moved to personalize your own decor even more via pages and pages of "accidental, lived-in beauty" (as awesomely described by T Magazine).