Alyssa Furtado is tech whiz turned working mom and she's taking on the change with the least guilt possible. To recap her life before she had her son Elliot last year, she co-founded Ratehub.ca, a website that connects Canadians to the best deals on mortgage rates, credit cards, insurance policies, as well as banking and investment accounts. Launched in 2010, the company now totes impressive stats: 50 employees and 5 million users annually. She even made her way onto Dragon's Den, won and then turned down the funding thanks to the upswing in the real estate market during 2016 when Ratehub.ca primarily serviced mortgage loans. Plus, they scored a venture round worth 12 million dollars to support their expansion. When we meet, it's clear she's accepted the new limitations she's discovering as a working mom and CEO. She's focusing on the things she loves: Her friends, her family and her work and everything in between can wait. "I have the best nanny, amazing grandparents on both sides who are so willing to help out and I've outsourced all of my cooking to Chef's plate. I need help with my to-do list to make time for my family and my business and I know I'm fortunate to be in a position where I can put this kind of support in place."        
How did your mat leave change your business plan?
"I took a 3-month maternity leave and it gave me a chance to be at home with my baby but it also forced me to see the gap in processes and leadership talent. When I'm running the business day-to-day, I can provide clarity, but while I wasn't there, I could see the things that weren't running like well-oiled machine. My absence amplified the chaos…and it was great to see because it made me realize how we spend our time and what we need to build out our team. With more senior people, we benefit from their previous experience working at bigger, later stage companies and they've also helped put valuable mentorship and processes in place. We hired 3 new directors, which probably would've happened eventually but my mat leave showed me we needed them sooner and I'm happy for that."     
A baby brings so many internal shifts. What's the biggest one that you've noticed so far?
"At work, it's so easy to be scared of the unknown and we're always trying to plan ahead for it. For example, I said I'm going to be back to work in 3 months and everyone said, 'you don't know how it's going to feel' or 'you don't know that that's possible.' I planned for support in anticipation of how hard those first few months can be. I knew I was going to have a night nurse from day one. I've always believed in having some sort of plan in order to set myself up for success. Having said all that, I have become less of a control freak. I've realized that everything is a phase…whether it has to do with a baby's naps or eating solids, it all happens eventually and the only thing I have to rely on is time and patience."
Working motherhood. Explain.
"I run my own business and have more control over how I divide my time so it's not as difficult as it could be. I'm also not afraid to ask for help. Between my mom, my mother-in-law, my nanny and my husband, who was able to take parental leave so we could enjoy those early months together, it's been amazing. I think it's important to admit to your limitations and not feel bad about them. I have a hard time accepting this idea that working moms have to hold themselves responsible to this huge task list in order to function and operate in addition to their careers. I've been figuring out what I need to focus on and then ask for help or let things go."
Has your career prepared you for being a mom?
"Crisis management is a skill I work on every day and I've had to build up my tolerance to high risk situations.  Motherhood sometimes feels the same; the hurdles are different but they are still there to overcome and I generally don't let them get me down because I'm used to living with chaos. And while some people might mistake this for being intense, having my own business has taught me to be chill out about whatever upsets come my way.  There's always a solution, it just may take some time and mistakes to find."
What keeps you motivated at work now versus then?
"It's important to think about what your motivations are and why you're going into your own business or fall in love with an idea to see it through. When I first launched Ratehub.ca, one of my core reasons was flexibility; I wanted to free myself from my corporate job and replace my income with my own goals. My motivation has since changed. Now my two core passions are to help Canadians make better financial decisions and to grow an amazing team. It's exciting to work with talented people and watch everyone come together towards the same goal. However, now I have to remember to accept my limitations and prioritize which is difficult in a culture of expansion and growth, because with that comes less freedom."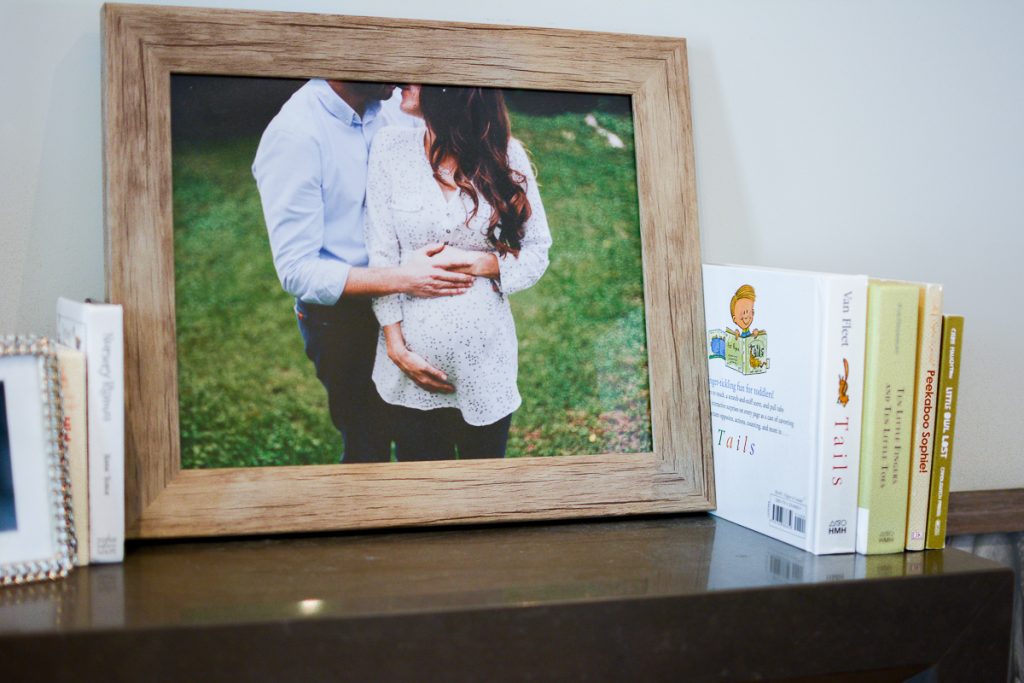 Her favourite pregnancy photo is low-key and subtle just like her home. "In the beginning of the business, I had to live really lean and now I'm used to living with less and I've learned that having too much stuff stresses me out."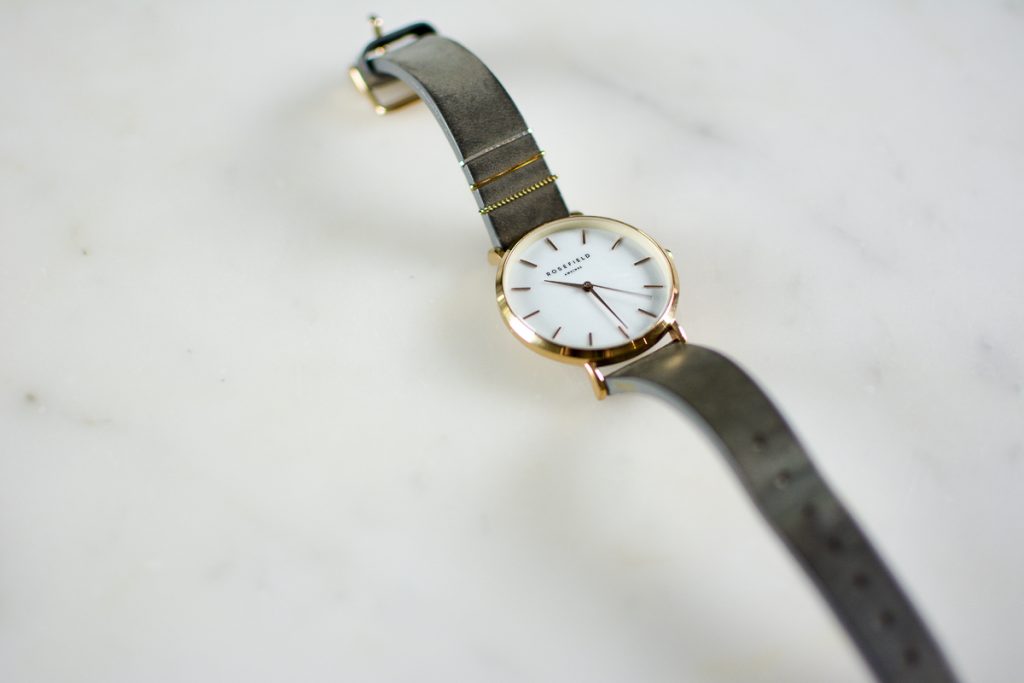 Her pared down approach frees up time to focus on her expanding business and now her growing family. However, she did recently make the investment in this watch. "I've never had one my whole life. I got it when my son was a few months old to help me time breast feedings and at work, I'm not a fan of checking my phone during meetings because then you get distracted by so many other things. This way I can discreetly check the time and stay focused on what we're doing."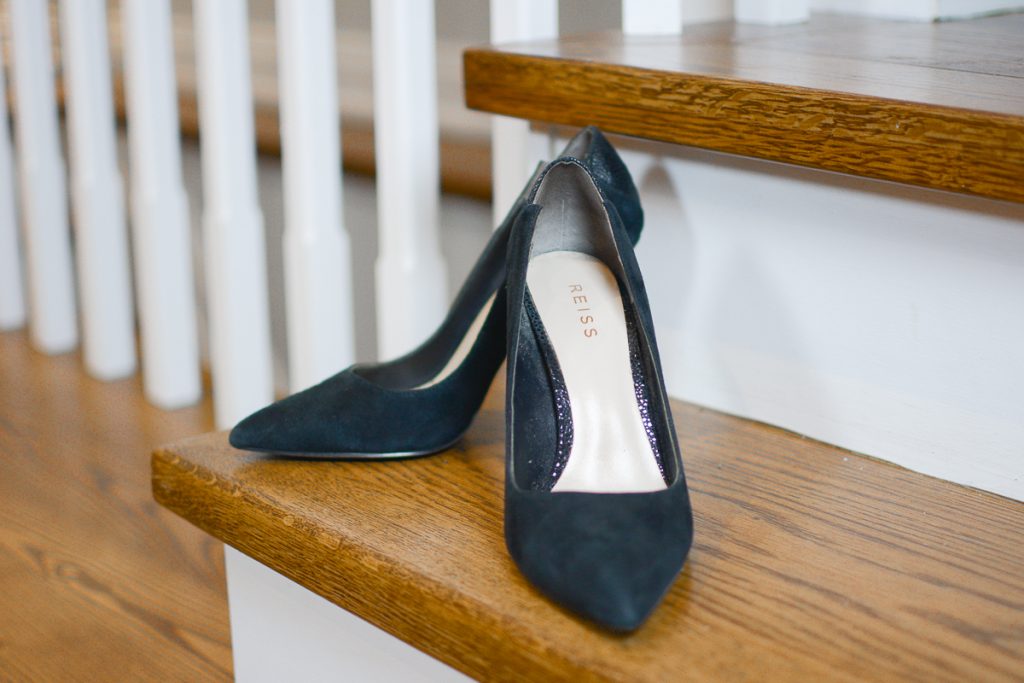 Heels aren't Alyssa's go-to but these tell a memorable story. "I wore them on Dragon's Den. When you walk down the stairs, they are super scary and steep and they always remind me of that moment. I hadn't pitched it in so long and had forgotten how vulnerable of an experience it can be at open yourself up to criticism and opinions."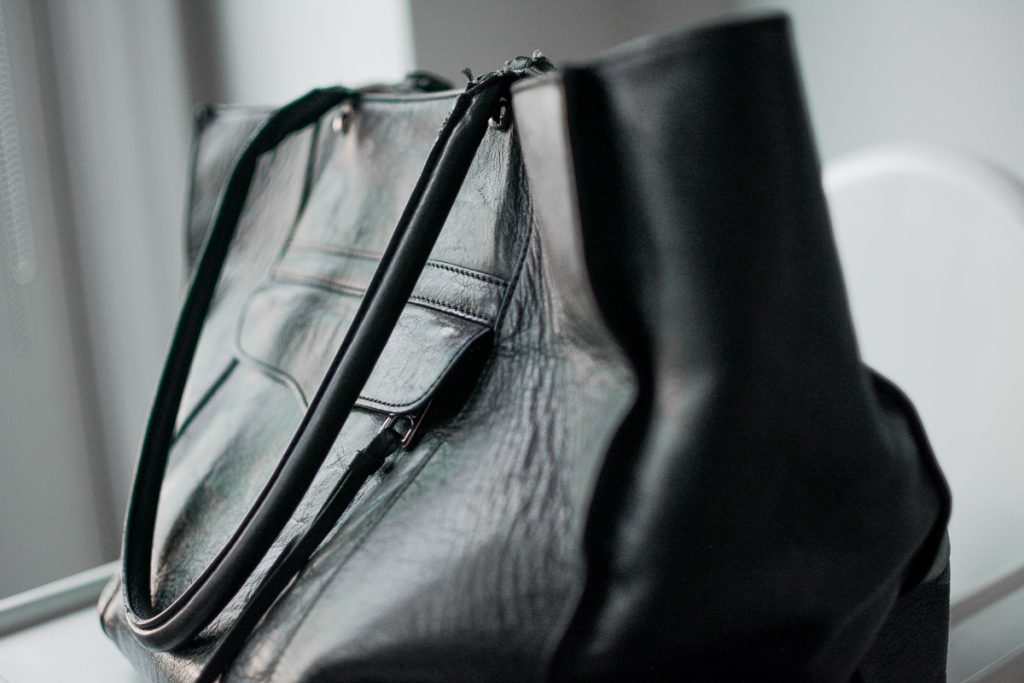 It's hard to shake old habits. Alyssa was still toting around her trusty knapsack and it took co-workers to help her step up her daily gear game. "They gave this bag to me as a gift. I'm grateful for any gift, especially one that makes my life easier."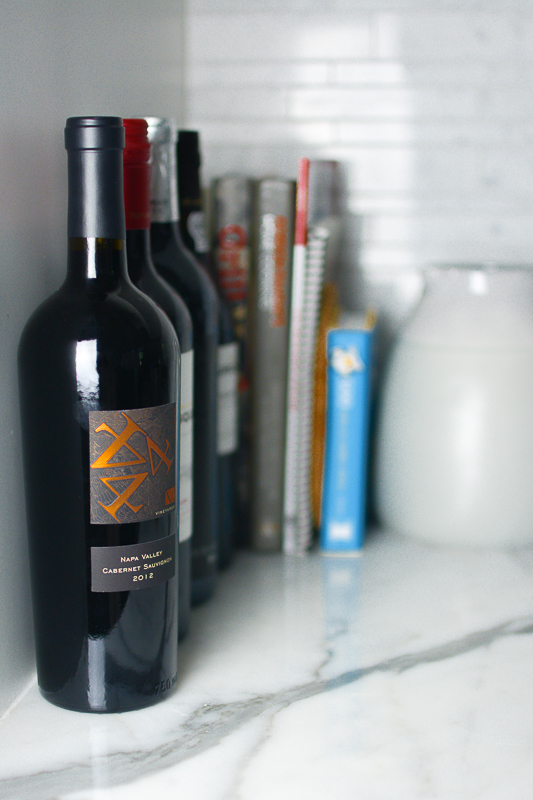 "I picked this wine up in Napa a few weeks ago.  We had a work conference and I went with some of my business partners — we've been in business for 8 years together. We went to this amazing winery and had a beautiful dinner and I picked up a few bottles so I could enjoy it again at home. I really just need good food, good wine and my friends and family to be happy."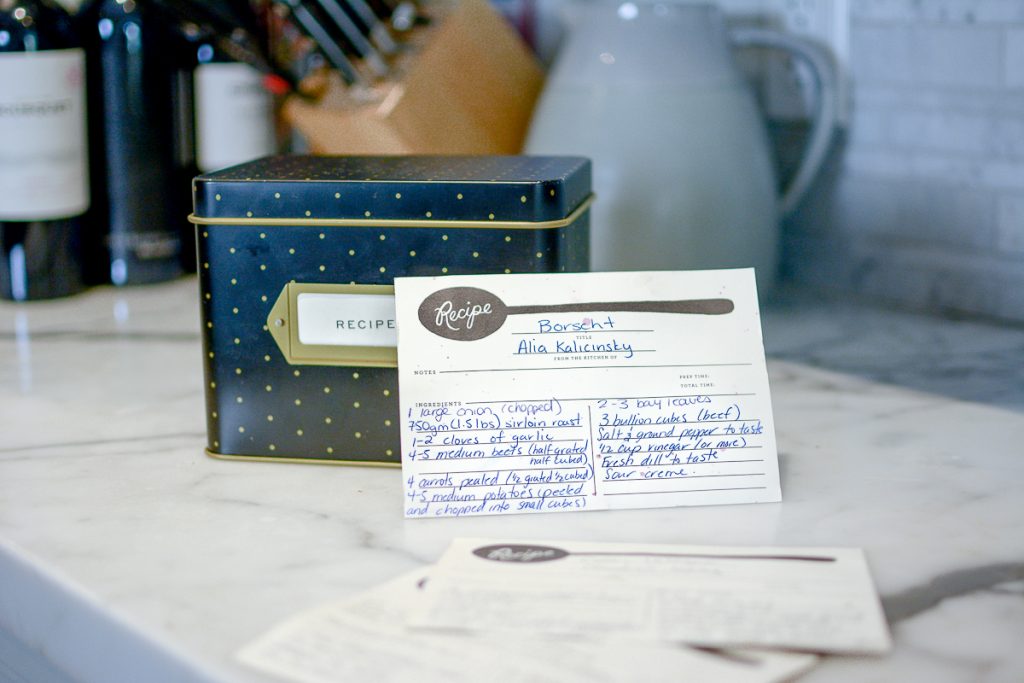 Admittedly, she uses meal delivery services to keep up with mid-week dinners but we did spot this old school recipe tin on her kitchen counter which she regularly uses when she cooks and entertains on the weekends. "When you use your phone, it always locks it while you're in the middle of cooking so I started collecting my favourite recipes here."
Photos: Sheena Glen