Over the last 17 years, Megan Cassidy established a successful career and her own boutique business partnership, NCDA, as a residential architect with a modern eye. And like so many of us, she needed more to satisfy her creative flow and welcomed the relief of her mid-career change. Long-time friend and architect Jane Son felt the same way and last year they launched Casson Hardware. Closely related to architecture, their business fills the professional hole they struggled with for years by offering sleek architectural details such as the cabinet hardware, door hardware and bathware they were always seeking for their own clients. "As architects, we designed Casson to be the type of business we would want to work with.  Most architects and designers don't have the time to visit showrooms so we focused our attention on a really beautiful and easy to navigate website which acts as our virtual showroom." Here's the story of how they got started and embraced change.
"Jane and I met on the first day of university and have been roommates and best friends ever since. We even made a pact to have our kids at the same time and now our boys are only 3 months apart! Becoming business partners was our natural next step because we've been in sync personally and professionally for so long.
The year before the launch was spent as a research project approaching the companies we wanted to represent, building our website and learning how to run a business. We approached it like an architectural assignment which involves a whole new set of insights, collaboration, decision making and planning. We also reached out to our network of women in business. We interviewed everyone we knew who had started a business like Maria Raco, who owns Newwall [luxury wallpaper] to Joyce Lo from Drake General Store. We absorbed everything they said especially when it came to inventory and shipping; importing is very complicated.
We took courses with Enterprise Toronto [the Love, Mom crew have attended these too] learning about accounting and they'll even review your business plan with you. The architecture industry is notoriously protective, so it was refreshing to speak to business owners and attend classes where everyone was so communicative and supportive. It also felt great when everyone kept telling us that our instincts and planning were on point and that gave us the confidence to move forward.
Once we launched, I felt prepared because we took our time to get as smart as possible about our business and we intentionally launched slowly so we could manage the workload. We reached out to our large network in the design community first who spread the word about us. We purposefully chose a slower and organic approach so that we could manage the orders and give our clients great service.
Today the business has evolved.  We added two new members who joined our sales team this past spring and we still learn by trial and error but it is certainly finer tuned now.  One lesson I have learned is that you can't do everything yourself, and it's not even best to try sometimes, so we rely on a number of professional consultants like our creative director, Sandy Kim. You often need to bootstrap many facets when you're building a company but you also have to know when to let go and ask for help.
Miro, my son, is six years old, which has made launching the business a little easier. He's at that age where he's more independent and spending time at school so I have time to wrap my head around everything. Launching with someone who understands the demands of motherhood, lends more balance too. My employment is self-regulated so I can schedule in a nice breakfast and luckily we live 3 minutes from school. When I pick him up, we cook dinner and spend all that time before bed together.
Being an architect trained me well to perform with deadlines and over the years I've learned not to get stressed out about them. Instead I maximize my time so I can even fit in time with friends. Of course, I can feel maxed out when there are intense deadlines, like when Jane and I were learning how to build our website. That needed way more time and attention than I expected but once we got over the learning curve, I felt so good. I love that feeling when I've learned something that I thought was so impenetrable.
It's busy but I'm juggling it all because I want to. When Miro's having a snack or playing with Lego, sure I'll quickly answer a few emails so we have time to go to the park or get to a swimming lesson. But it's also about trusting my intuition as a mom and knowing when to let work go and be with my son."
A Home Full of Design Moments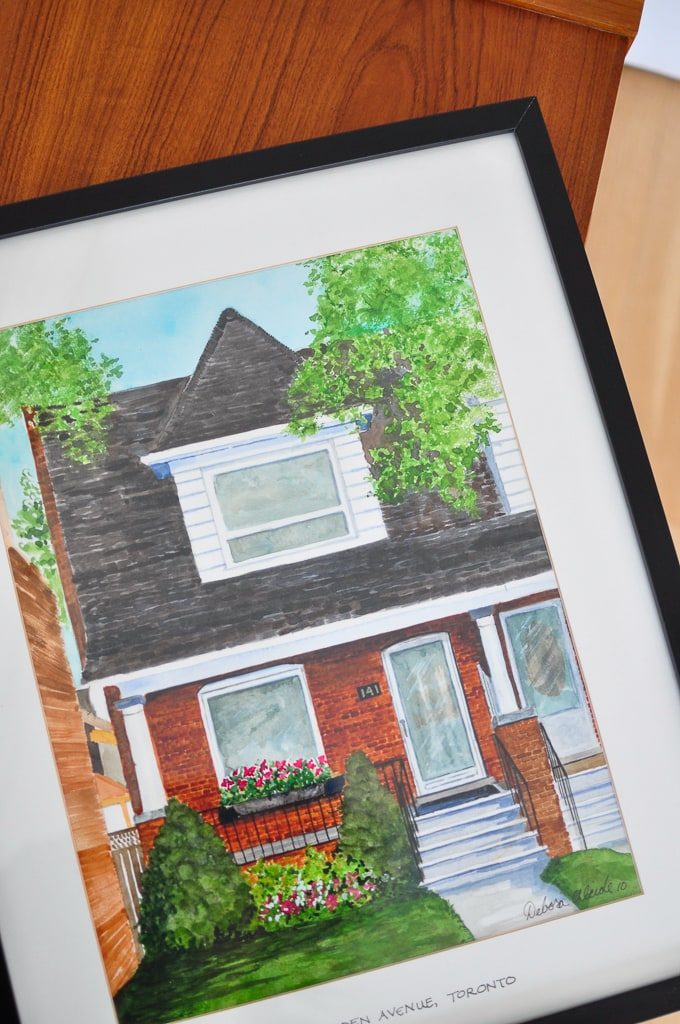 An homage to her home, which she renovated in 2009, features the traditional facade which contrasts with the modern interior.
The kitchen boasts clean sight lines and light fixtures that are conversation starters. "LED lighting drives me crazy. Fixtures offer such an opportunity to express more style and personality."  The dining room light is made of pieces from a trip to Japan that she wired together to fit perfectly over the dining table.
Mid-century bookshelves inherited from her grandparents line a kitchen wall that doubles as toy (and work) storage.
Another vintage score includes this  Fisher Price kitchen that has almost every piece in tact (and her son Miro is getting serious milage out of it decades later).
Megan collects cheeky memorabilia that brings design, joy and humour into her every day.
The  wood for the window bench came from a downtown demolition site and was repurposed with comfort and style in mind.
Artist and friend, Kathryn Ruppert-Dazai, textile renderings take centre stage in the living room and Miro's room (below).
She purchased an Eames lounger as her breastfeeding chair, knowing it would stand the test of time in a relaxing corner of her bedroom once Miro's baby years were over.
Her love of industrial and modern design stands out with this combo of finds: A Jasper Morrison cork stool, a vintage teak bed frame and a Flos floor-to-ceiling spotlight.
More design humour: "Do You Remember The Time?" wall clock by Brooklyn artist Dave Singley.
Megan also possesses appreciation for minimal and spare designs like this candle holder which inspires the selection available at Casson (below).
Eye-catching cabinet knobs and hooks from Swedish designers Baccman Berglund available at Casson Hardware.
Miro's room is full of chic finds too like his own Knoll chairs and wooden keepsakes that are play things too.
This mom's must-haves and mementos
A collection of matchbooks found at a family cottage brings back the memories.
Her beauty routine includes of hint of colour with a pop culture vibe: Saveur Lipstick in a Betty-Draper inspired pink and a M.A.C. eyeshadow palette with a Marge Simpson theme.
A collection of tortoise shell hair accessories from J.Crew are trusted go-to's for everyday hair styling.
On her reading list: Here I Am by Jonathan Safran Foer; NW by Zadie Smith; The Year of Magical Thinking by Joan Didion; and Dr. Strangelove Dr Strangelove featuring an exhibit by Canadian artist Kristan Horton;
An experiment with Toronto's Hot Pop Factory (specializing in prototype designs, including this tongue-in-cheek crack pipe with former Toronto mayor Rob Ford) culminated in one-off Pez dispensers featuring plastic composites of every staff member at a former design firm.
When breaks free from her jeans and collection of work-from-home moccasins, Megan likes to play with a vintage vibe that's all out classic. Vintage Hermes scarf and Sartoria Vico pleated midi-skirt.