Rochelle de Goias launched Girls E-Mentorship (GEM) five years ago. Her program offers guidance to female youth facing socio-economic barriers. The Toronto-based non-profit has gained momentum and support in a short amount of time, largely due to Rochelle's hard-earned acumen. She's a political analyst who sharpened her career working for the UN evaluating child labour reduction programs in South East Asia and as a policy advisor for the Ministry of the Environment and a consultant with the Ministry of Economic Development, Trade and Employment; launching GEM was truly a natural progression of her fine-tuned know-how. Within the last couple of years, she also had two littles and admits she's figuring out how to be a mom who's comfortable with letting go in order to succeed.
What's a secret power you count on to keep it together?
"Determination. At work, I'm always thinking about a goal, for example right now, growth is top of mind. I'm singularly focused and know the team can make our charity better and bigger so we can help more people. I'm that person who to call if you have any self-doubt or if you're having a bad day and I'll say, 'you can do this; you can do it with your eyes closed'. This level of motivation and intensity has allowed me to grow GEM from an idea into a reality.
I know I bring that intensity home too. I have this desire to ensure that my kids have this incredible childhood and create as many special moments as possible for them. Like so many moms, I would love them to look back on their lives and think they had the best mom. I know I stress myself out about it though. I'm really working on accepting that I can't do everything and I have to be okay with doing what I can. I'm still getting the hang of it; I'll stay up at night and send emails and take care some of online errands, then I'll catch myself and shut it all down. I'm slowly figuring out the difference between being determined and doing too much."
Is launching a non-profit similar to growing a business?
"From the beginning, we wanted to create a charity that thought like a business. Our clients are our mentors and mentees and our investors are our donors. We're intent on running GEM efficiently and at a low cost. For example, we have a large team of volunteers that help us reach our goals and we moved our office to the Centre for Social Innovation, a shared office space that keeps our nuts and bolts costs down.
We're also growing the program strategically. We've invested a lot of time and effort on design thinking. Instead of taking a top-down approach where a goal is determined and then the steps towards that goal are created, I wanted to do it in reverse. We designed a program that began with our mentees to help us determine the goal. We spent six months consulting with local girls to discover what they needed. We also created a mentor advisory committee and asked them how we could make it easier for them to volunteer as busy working women who want to help. Then we did a pilot run, got feedback, and redesigned our approach based on what we heard. Every year we get new insights and then we tweak the program to make it better. Like any business, we have to be nimble and we can't get stuck in one way of thinking.
The biggest difference with a traditional business, however, is that if we're not profitable, we're not reaching our goal of helping people. A charity relies on kindness, a compelling story and on donors and volunteers who want to make their cities and countries better. If people stopped having open hearts, a non-profit like us wouldn't survive."
Describe a challenge you've had to overcome at GEM.
"We're growing faster than I anticipated. It's a good problem, but also stressful. With that growth, comes pressure to fundraise. There are a lot of girls requesting mentorship and we can only provide it for 1 in 4 girls, so we need more funding to support our programs. There are also so many areas that we want to be involved with beyond Toronto. There's a huge need and we're only a drop in the bucket. A part of me thought this was going to be a grass roots organization forever, and now I'm thinking about what growth looks like every day I go to work. This expansion is so exciting and the best outcome I could've hoped for, but naturally I wonder how am I going to manage all this while finding time to enjoy my young family?"
Name a leap of faith you've had to take recently.
"Letting other people help me. When I started this, I was doing everything, then I brought in a bigger team and expanded the board.  Once I became pregnant with my second baby, my load became impossible to manage. We've grown to two full-time consultants (a project manager and a communications lead), a graphic designer and seven board members. Of course, I had an initial reaction to taking less of a hand's on role. Relinquishing that kind of control took adjusting, and now I love it. I'm running the organization with women who are incredible while giving myself more time with my family."
What's an a-ha moment that has surprised you most?  
"Deep down I trusted that GEM was going to help girls and I knew those girls would get to where they wanted to go. What I didn't expect was that the community of mentors we have established would become so strong. They are incredible and like-minded women who want to hang out and create deep relationships with each other. The program gives us a chance to find out our interests, backgrounds and passions and it's proving as valuable to the mentors as it is to the mentees."
An elegant family home with bold & chic details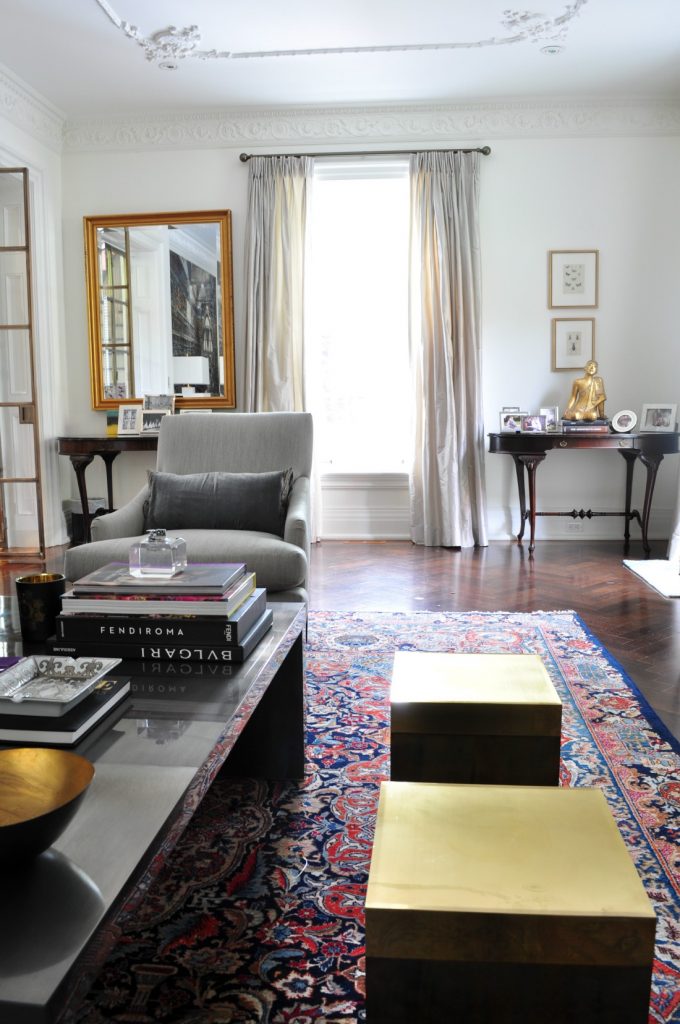 In plain view, Rochelle's style at home is classic with plenty of warmth and personality. A mix of decades and textures blend well together via an elegant palette.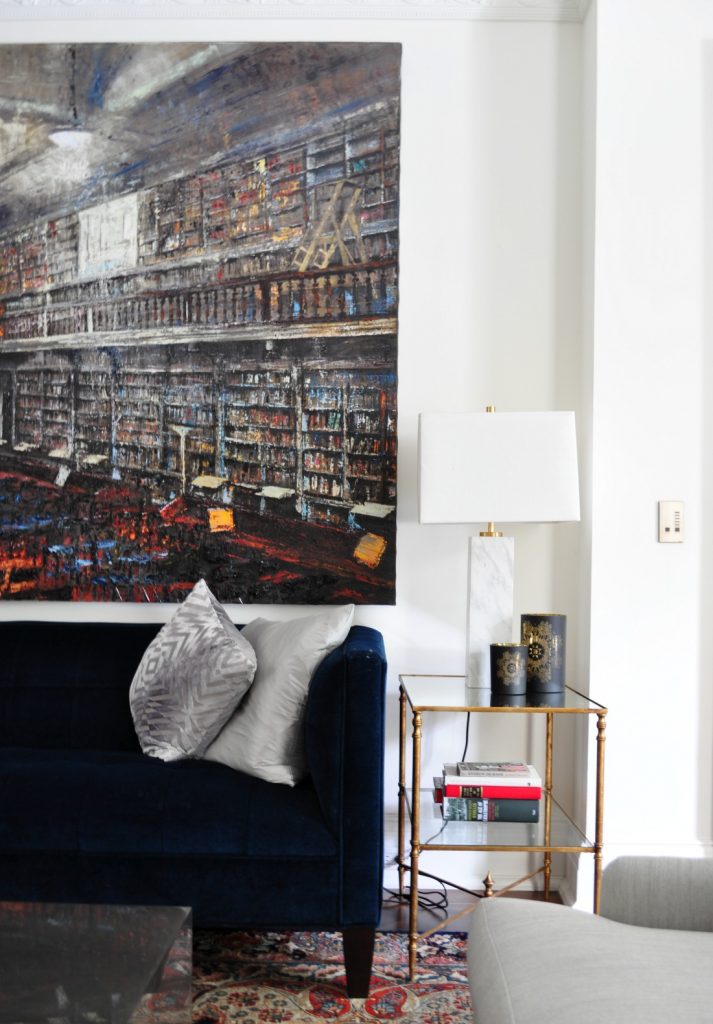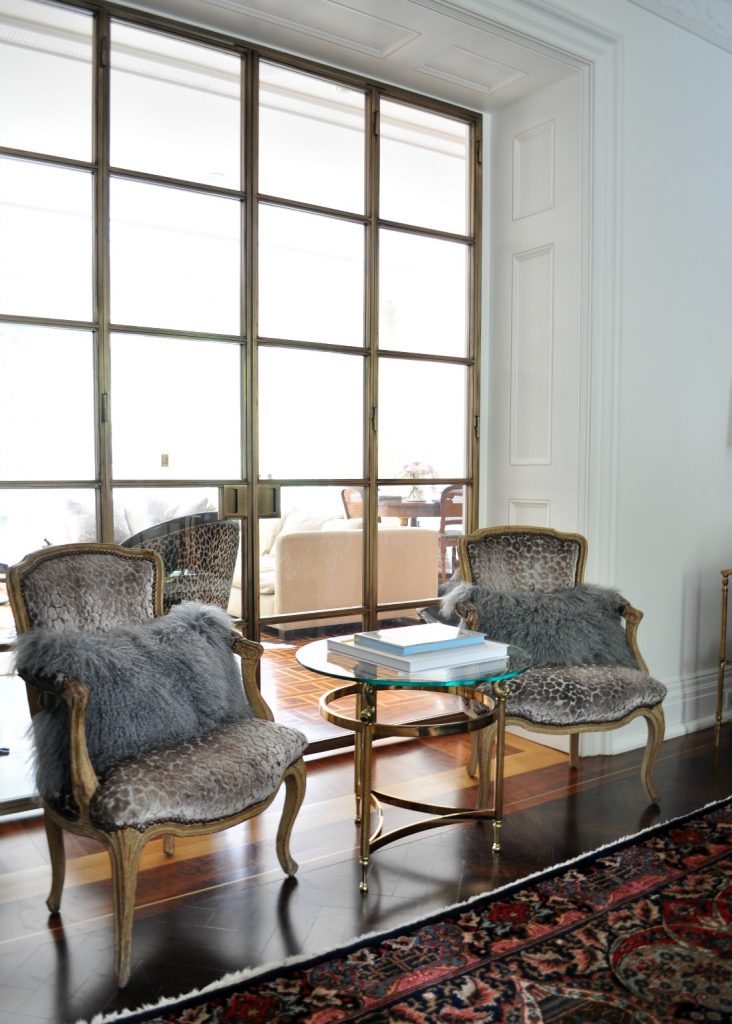 Mixing textures and prints is a no-brainer when you shift into neutral with misty greys and gold.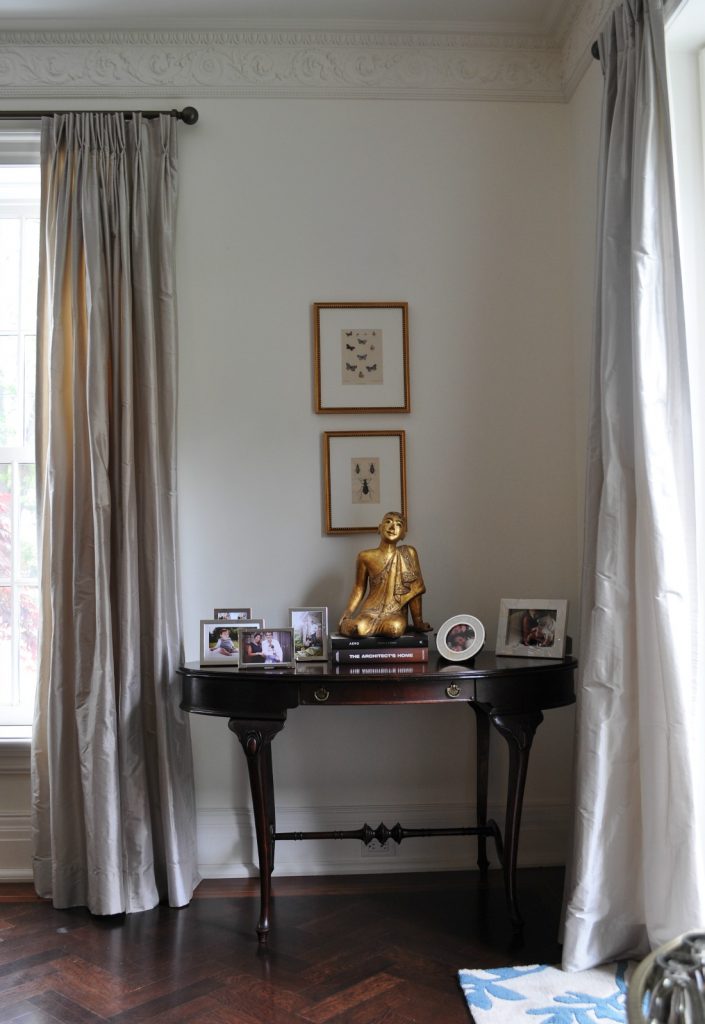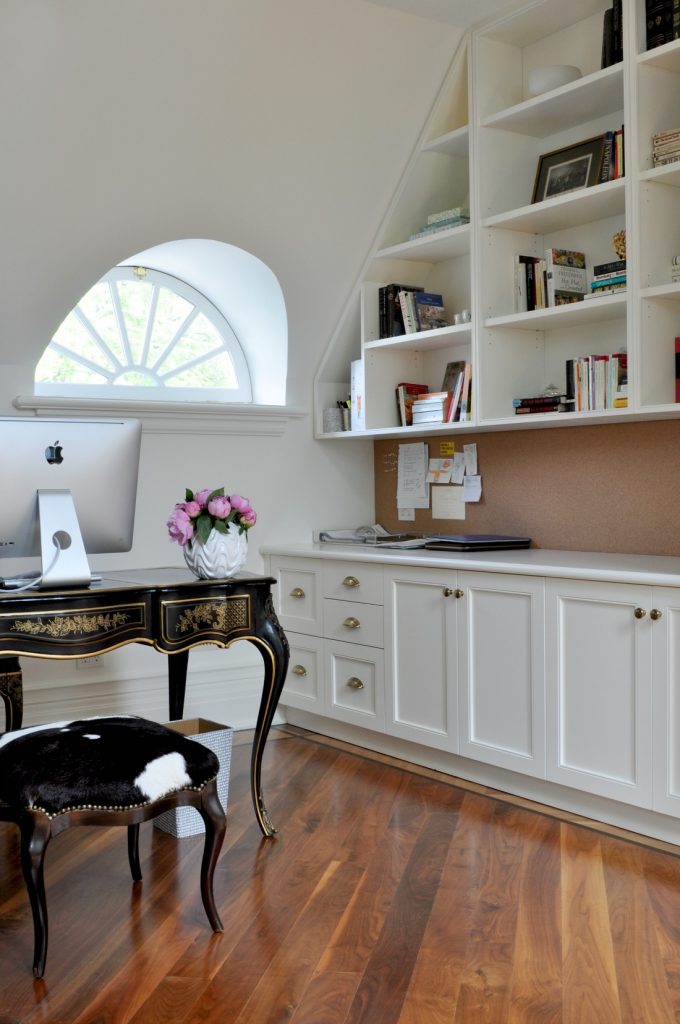 A newly renovated home office space in the attic has plenty of room to store her must-haves and must-reads for years to come. Rochelle livened up an antique stool with fur. (Previous to politics, she explored a career in design and still likes to flex her creative side when she can fit it in).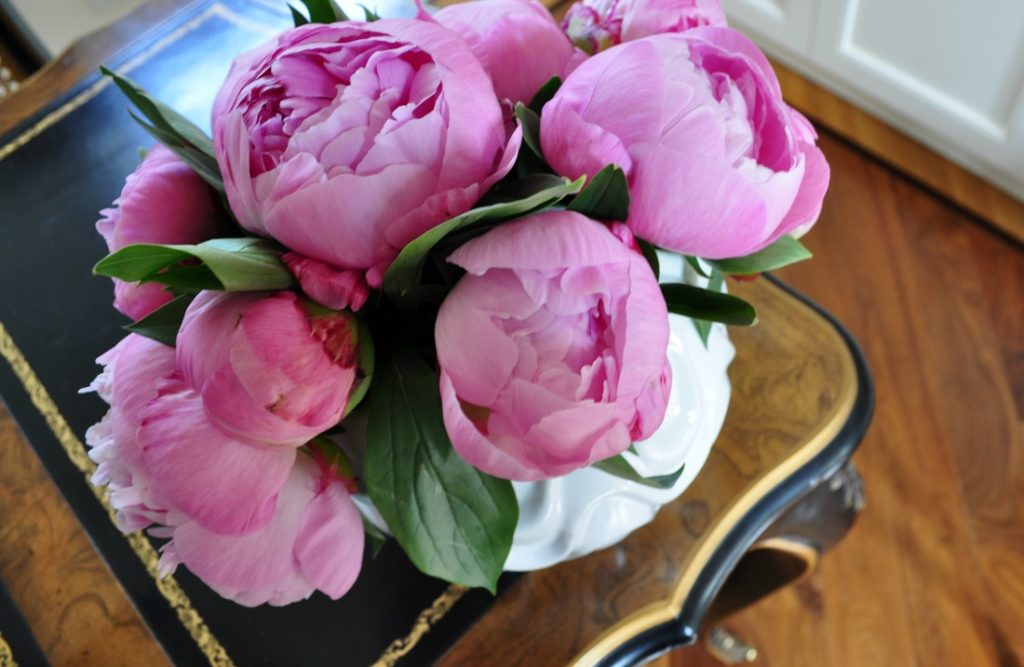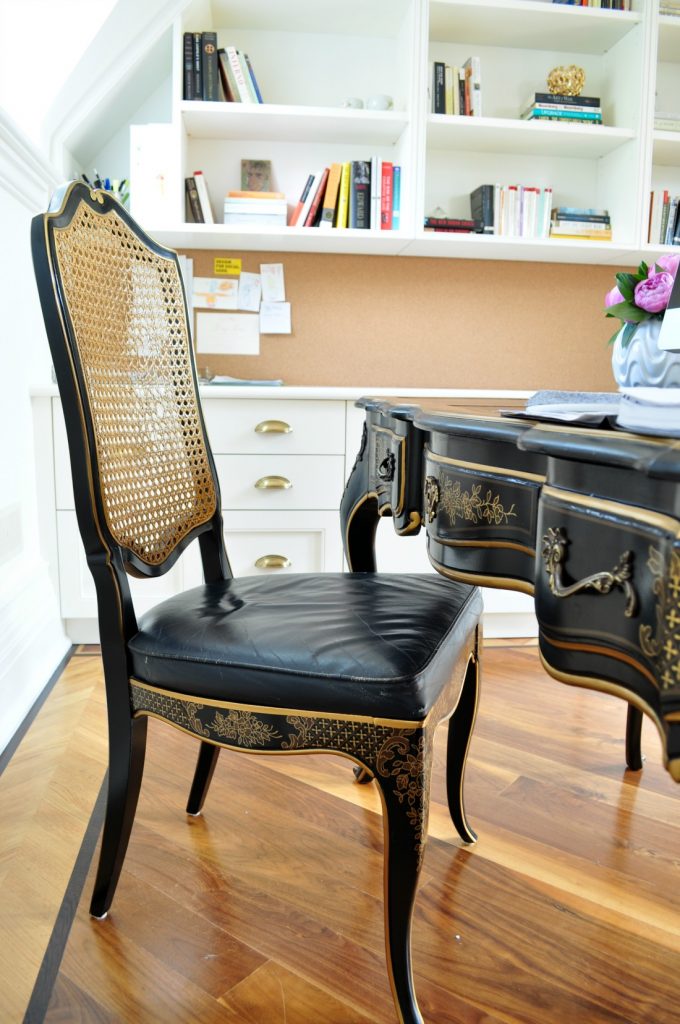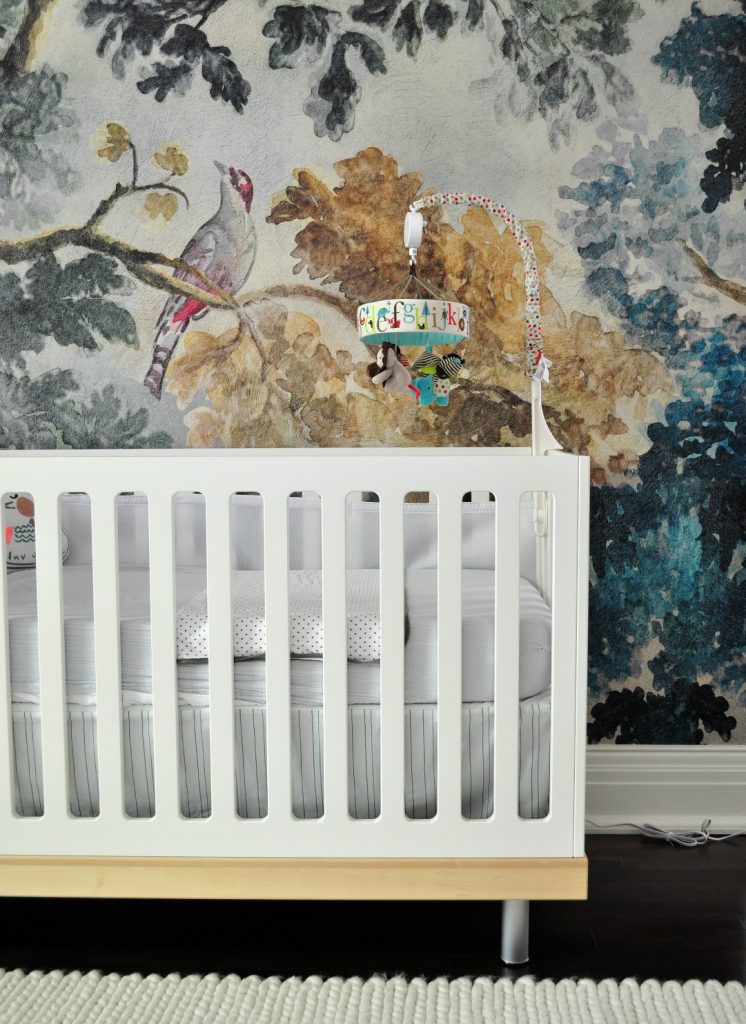 Wallpaper makes a statement that's oh-so sophisticated yet whimsical for Elodie's room. Crib, Oeuf.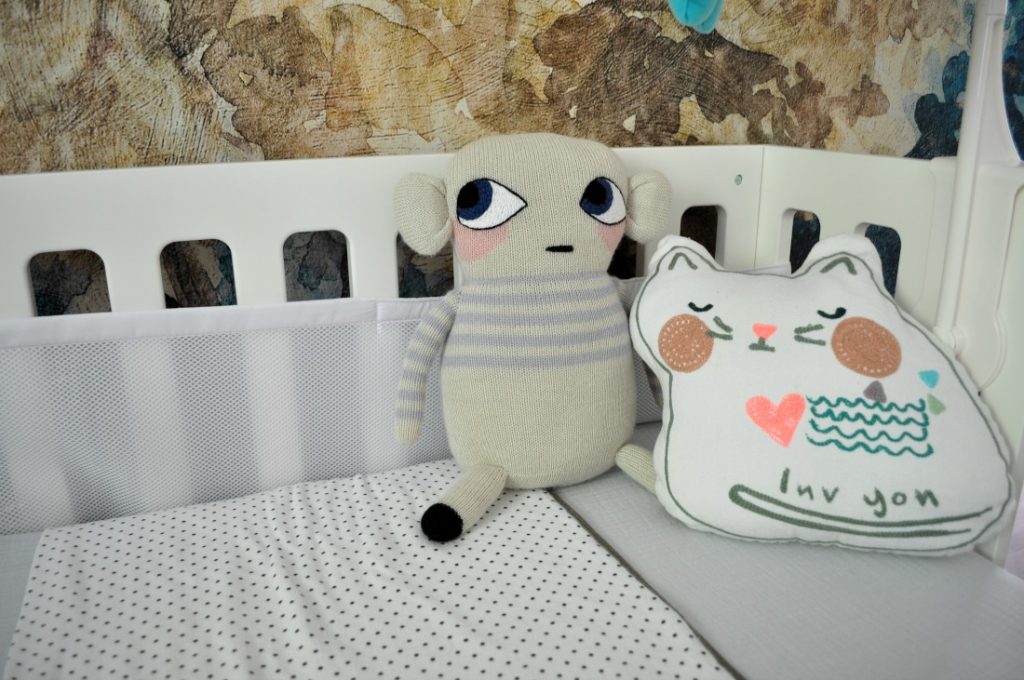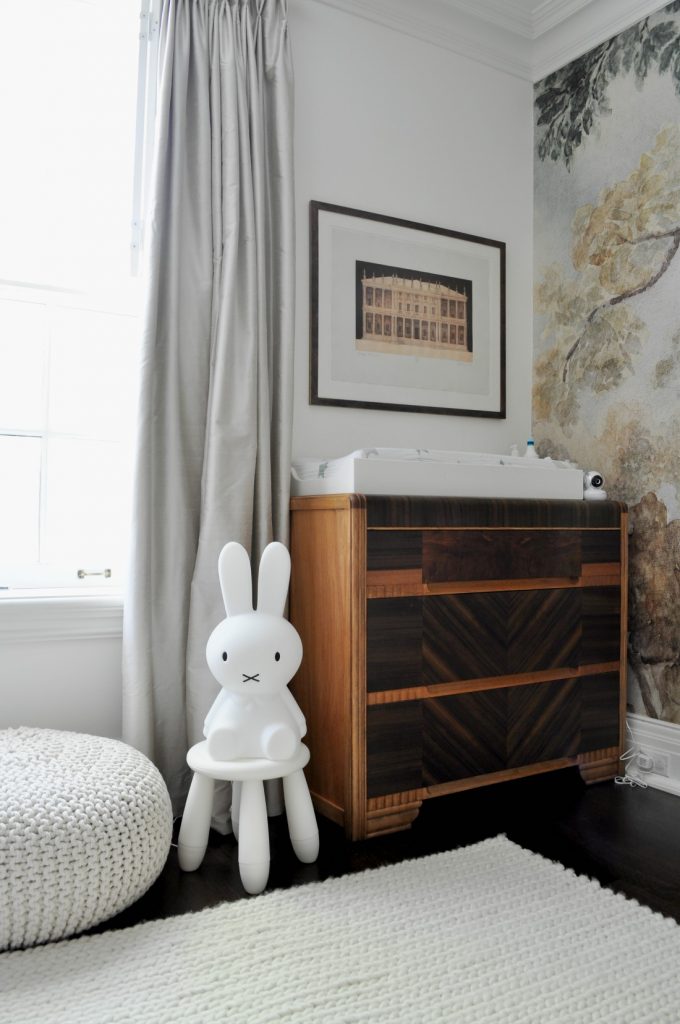 Rochelle loves the thrill of the hunt and found vintage dressers scored on Kijiji (above and below) that she had lovingly restored for each of the kid's rooms. Pouf, Restoration Hardware.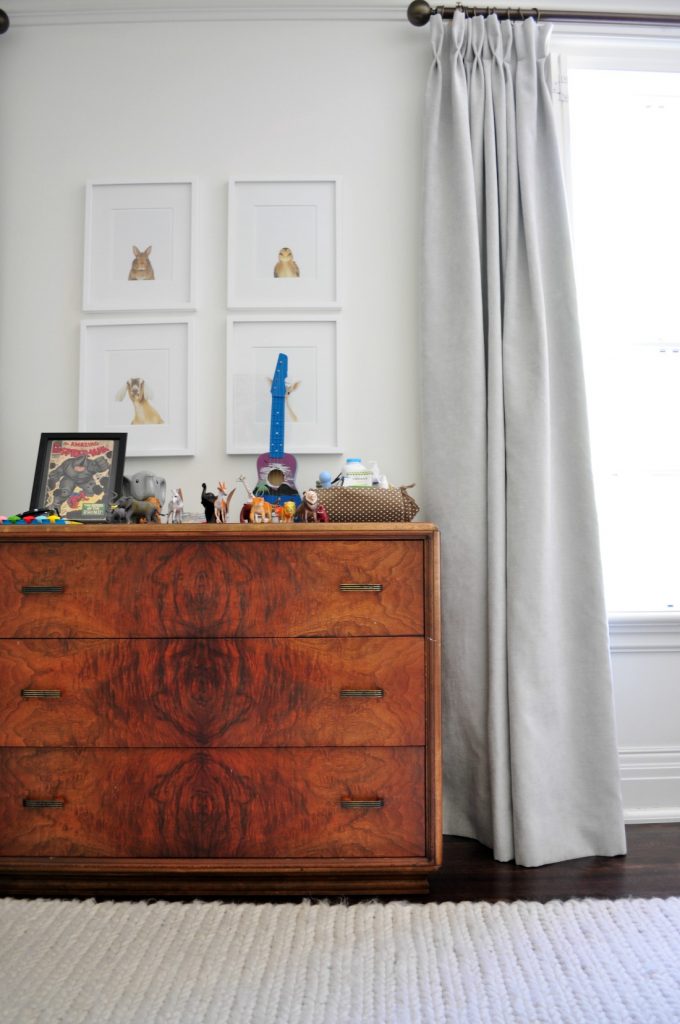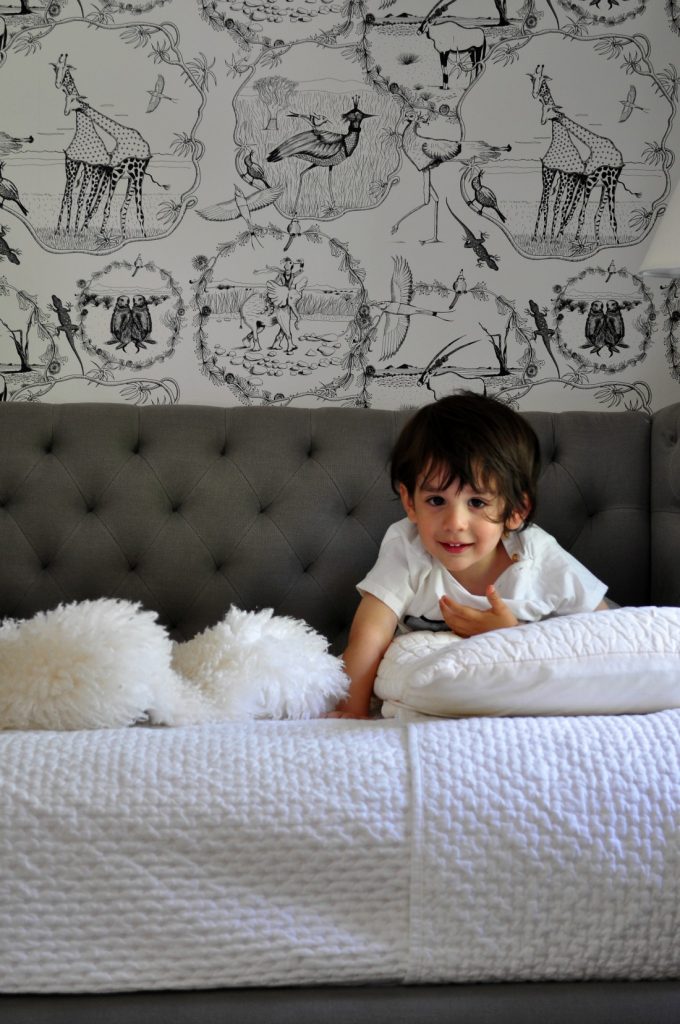 Oliver's neutral-toned room gets dressed up in a safari-print wallpaper from Anthropologie. Bed, Restoration Hardware.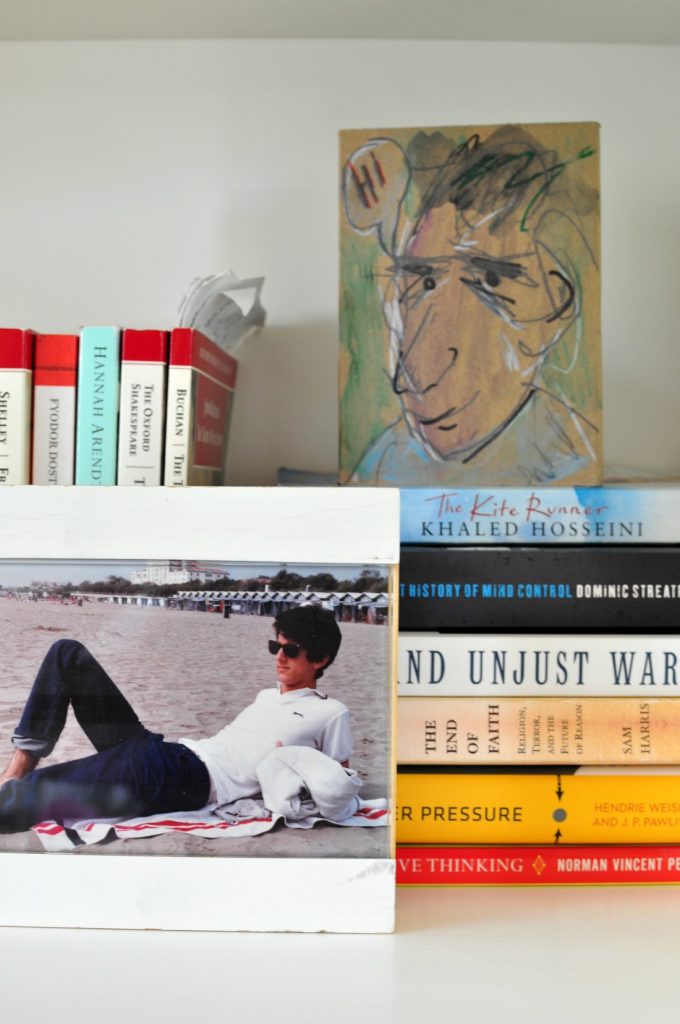 A picture of her husband, Duncan Jackman, when he was in his 20s. "That's when he, and every guy at that time, went through his Tom Cruise-inspired phase. It just makes me happy to look at it." Duncan also loves to draw and often gifts Rochelle with his inspired pauses.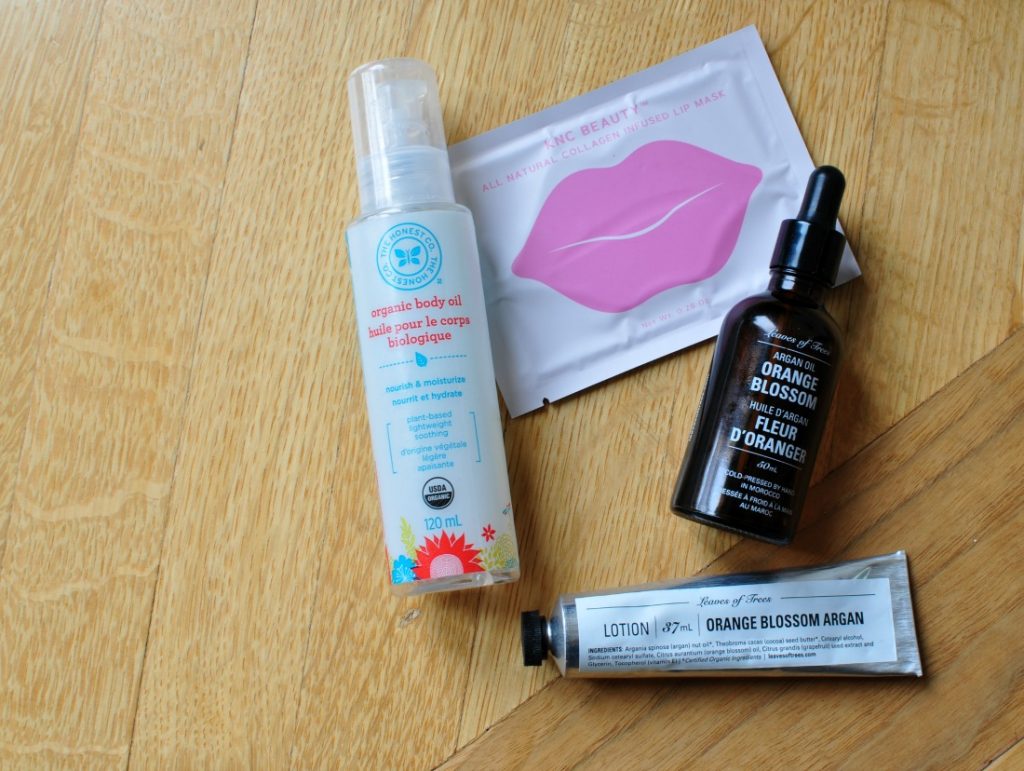 "Dr. Roohi Qureshi, is the founder of Leaves of Trees skin care and a mentor for Gem. She sources it's main ingredient, argan oil, from a women's cooperative in Morocco, which is also the main source of inspiration for all of the her products." Leaves of Trees Argan Oil and Hand & Body Lotion in Orange Blossom ("The scent puts me in such a good mood when I put it on", The Honest Company Organic Body Oil (that she uses on herself and her littles), and KNC Beauty All Natural Collagen Infused Lip Mask.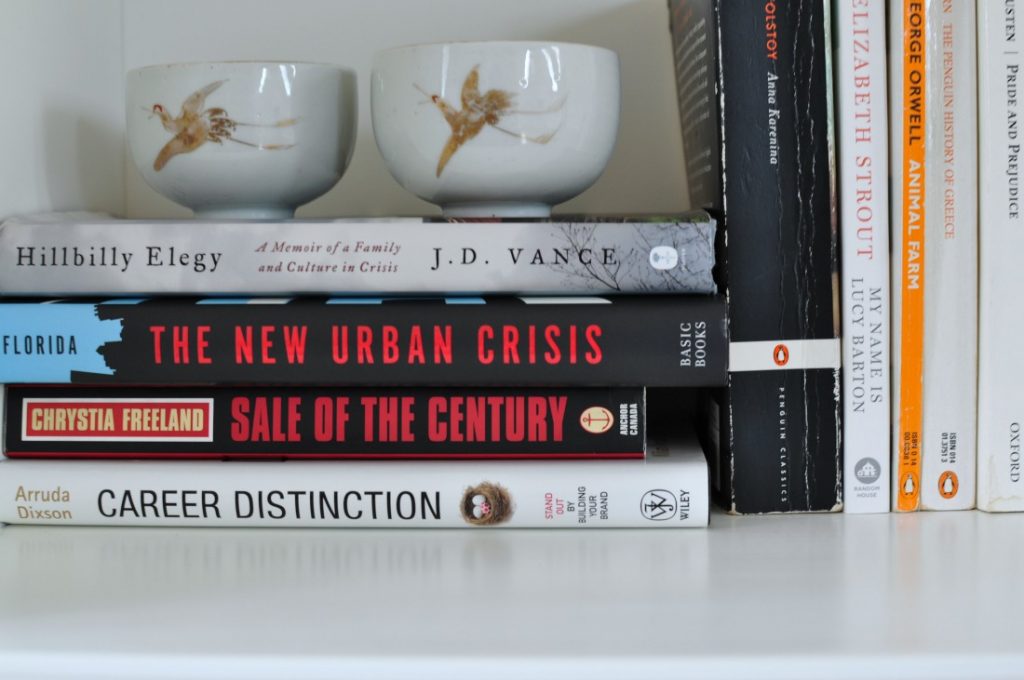 While working in Tokyo during an internship with the UN, she picked up this set of traditional Japanese tea ceremony cups in Azabu-Juban. "To celebrate a wedding, a couple would drink green tea from each other's cup. It's such a poignant and lovely tradition."] On her must-read list: Hillbilly Elegy by J.D. Vance. The author chronicles his journey as part of America's white working class who worked his way up from the Kentucky Rust Belt to Yale University. (Ron Howard is directing the book's movie adaption).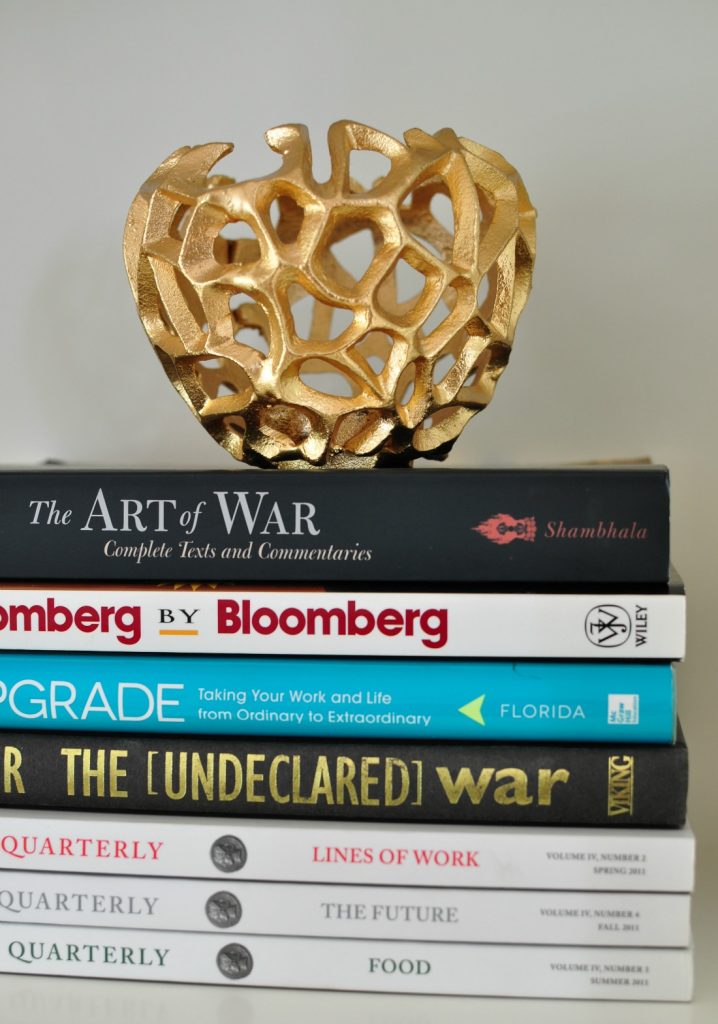 A ferocious reader, she admits she doesn't read as much as she used to with two littles in tow. "Normally I can finish a book within a couple of days, now it's more like a month." A treasured undergrad read is The Art of War, an influential and centuries-old examination that dives into the strategies and psychology of conflict.